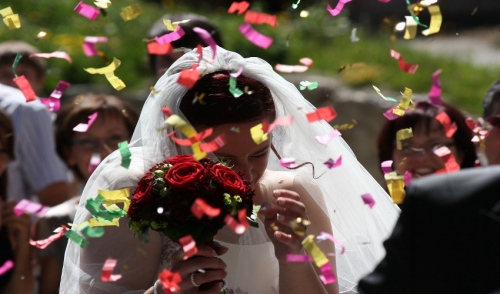 Planning a wedding takes a lot of time and energy. As a little boy or girl you dream about having that picture perfect wedding and when you finally reach that point where the dream has the opportunity to become reality you give it all you got. After all, most people commit with the understanding that they are only going to have one wedding, so you have to make it count. Couples put themselves through a gambit of tastings, venue tours, fittings, and meetings to make sure their special day is absolutely perfect. No stone goes unturned and the attention to detail is incredible. One factor in all weddings that must be decided is the color scheme. Choosing the right wedding palette can be very tough because there's so much to consider than just picking your favorite colors and throwing it into a space. Follow this article for tips on picking a color scheme for your wedding.
Start with finding the inspiration for your wedding and the colors you are interested in. Maybe that special someone proposed to you at your parents' beach house and you want to go with something that's bright or a combination of pastels with underlying neutral tones. Often times, many couples stick to their gut and go with what their comfortable with which is often related to a color palette they saw at someone else's wedding or something they saw in a magazine. That's fine as long as you feel its right for you, but don't be afraid to get wild and step outside what is normal. If Carrie Bradshaw can have a wedding in a historic library with gold and white tones, why can't you do better? Another useful tip is to run with a color scheme that fits the venue. Whether you are having the wedding outside or indoors, look at the architecture, the floors, the flowers in the garden, and consider the options that are available to you that will make your wedding colors really pop to your guests. Let your surroundings spark the imagination and help find the palette that will fit your wedding. In addition, don't be afraid to go seasonal. Some people have beach weddings and others have snowy ones. Find the colors that are going to exemplify the current season and your love all bundled into one. Coral tones are perfect for summer weddings, while silver and darker tones work better for winter or weddings that happen after Labor Day.
You don't have to lose sleep over this decision in order to get it right. Do your homework by reading magazines, books, or asking your married friends for photographs and advice. Don't be afraid to consult your venue or your local rental dealer about additional color options they may be able to offer in regards to tents, tables, and etc. The resources available are endless and will allow you to set the right tone for your wedding. Colors are important, but don't lose site of the big picture either. Have a vision and style in mind, and the rest of your wedding will fall into place. It's your day and your dream so make it worthwhile.